September 26, 2017
Trivium Films is in production of a new series called Lost In Europe!
We had an amazing shoot this summer, going to Switzerland and Sicily. The sizzle reel is here:
JULY 13, 2015
Full episodes of our nationally broadcast public television series Dream of  Italy are now available to view online!
All six episodes – Tuscany, Rome, Umbria, Naples/Amalfi Coast, Piedmont, and Puglia – can be viewed below.
TUSCANY:
ROME:
UMBRIA:
NAPLES/AMALFI COAST:
PIEDMONT:
PUGLIA:
Our new TV series, Dream of Italy,  begins airing May 16, 2015!
Here's a clip from the show, about the last of the Tuscan cowboys, known as butteri.
Trivium Films produced this commercial for the travel website and mobile app, Viator.
Directed by Dakkan Abbe:
Just released! The Davenports' new video…directed by Dakkan Abbe and produced by Trivium Films:

We are excited to announce that Trivium Films' travel series Dream of Italy will premiere on public television stations nationwide in May 2015!
Check out the teaser:
Trivium Films Produces Latest Stan Douglas Project – Luanda-Kinshasa – 1/2014
In June 2013, Trivium Films produced an exciting project for renowned video artist Stan Douglas. The finalized work, called Luanda-Kinshasa, screened at Manhattan's David Zwirner gallery.
Douglas' previous work has been shown at numerous prestigious institutions around the world,  including New York's Solomon R. Guggenheim Museum and The Museum of Modern Art, London's Tate Gallery, and the Centre Georges Pompidou in Paris.
Produced by Christopher Martini, Chuck Renaud and Dakkan Abbe, the video is of an imagined recording session set in 1973, using real musicians playing in a reconstruction of the legendary Columbia 30th St. Studio. It is loosely inspired by Miles Davis' musical experiments of that era and the visual style of Jean-Luc Godard's Sympathy for the Devil.
Featuring an incredible array of contemporary jazz artists in vintage wardrobe and playing period instruments, the shoot was conducted over two days in an elaborately re-designed church in Greenpoint, Brooklyn. Meticulous production design, hair, makeup, wardrobe, and vintage lenses all contribute to a beautifully realized project.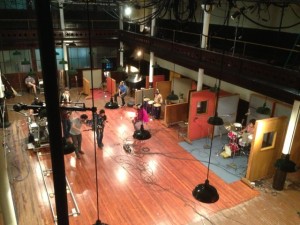 The reviews for the film have been incredible:
New York Times: "'Luanda-Kinshasa,' his intoxicating new film… looks and feels  like documentation of a New York recording session from sometime around 1972."
Village Voice: "An entertainment that is also a powerful crystallization of a moment when the world seemed poised to crack open, Douglas's movie of a band that never existed playing tunes from another era will make even the most smug viewers wonder what they missed."